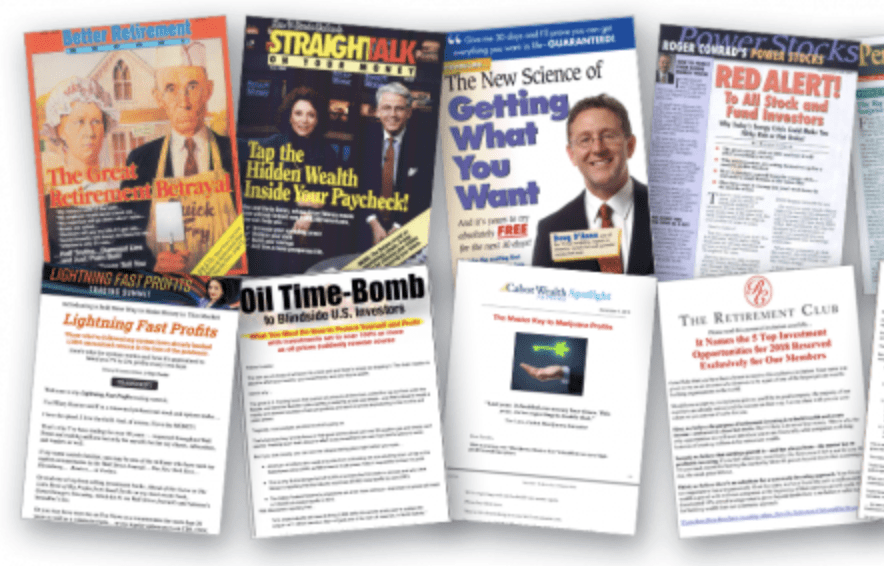 How to Mine Your Swipe File for Million-Dollar Ideas
Mining your swipe file for million-dollar ideas is a great way to jumpstart your writing process and create effective promotions.
If you are not familiar with the term swipe file, it is a collection of advertising samples that writers use to identify winning concepts, headlines, arguments, and calls to action that they can use in future promotions.
By studying these samples over and over, a copywriter will be able to emblazon in their mind these techniques and be able to call up these ideas as they are writing on the fly.
While some experts recommend handwriting each piece in a swipe file to better remember the content, I disagree. This process can be time-consuming and may not be the most efficient way to emblazon the knowledge in your brain.
Instead, I suggest copying the transitions, arguments, and calls to action and committing them to memory. This way, you can quickly access these ideas when you need them and apply them to your own writing.
Here's an example of swiping the opening lead from one promotion and applying it to another:
Original: "The biggest oil play of the year is at hand, and this is your opportunity to profit. The highest oil prices in history have triggered a mad dash to find new oil reserves as worries deepen over world supplies."
Swiped: "The biggest tech play of the year is at hand, and this is your opportunity to profit. The rapid advancements in technology have triggered a mad dash to invest in the latest and greatest tech companies as worries deepen over industry competition."
Another way to use a swipe file is to look for specific elements that you can incorporate into your own promotions, such as a powerful headline or a unique call to action.
For example, you can find a headline that grabs attention and use it as inspiration for your own headline, or you can find a call to action that has been proven to be effective and use it in your own promotion.
Here's another example of this:
Original: "Will there be boom or inflation head?"
Swiped: "Boom or Bust Ahead?"
Additionally, you can use a swipe file to find inspiration for the overall tone and style of your promotion.
For instance, you can study for the phrases it offers and use them as a guide for your own promotion.
Here's another example:
Original: I don't know when the markets will crash, but I do know now is not a time to sit on your hands.
Swiped: I don't know when the next viral outbreak will occur, but I do know now is not a time to neglect your health and well-being.
See how that works.
Overall, by studying the techniques used in successful promotions and incorporating them into your own writing, you can increase the chances of creating million-dollar ideas for your own promotions.
My $100 Million Copywriting Formula Swipe File is an excellent collection to study for those looking to create more powerful and persuasive headlines, arguments, and calls to action for their promotions.
These are the same ones that I use to coach my copywriting students on my Million-Dollar Copywriting Formula.
Each one has been hand-picked by me to give you a bank of winning headlines, leads, transitions, and arguments that you can turn to whenever you need inspiration for your next email, landing page, or video sales letter.
They include:
The Great Retirement Betrayal. This was my first grand slam promotion. As you'll see, it's written like a grandfather whose only goal is to make sure you don't get ripped off by bankers, brokers, and the government. When you read it, you'll see how you, too, can add this same friendly/fatherly tone to your sales letters, landing pages, and webinars.
One Nation Under China is one of my best examples of using the Trojan Horse. Written like a highly-charged news article, it slowly walks you down the order form using a combination of fear and greed. It is one of my best examples of using the news hook to move your readers to do a swan dive to the order form.
Tap the Hidden Wealth Inside Your Paycheck was written and targeted at regular everyday people who are trying to get ahead in life and just don't know how. You'll read how I speak to them in a to-a-friend-from-a-friend tone. This launch package beat a well-known A-list writer's effort and was money for me for two years.
The One Stock That Will Make You a Marijuana Millionaire is one of my best examples of using a single stock story to sell a subscription to an investment newsletter. The big takeaway here is how I use undeniable proof to make the case for owning this incredible stock. Another two-year control.
The New Science of Getting What You Want was self-promotion for a book I authored 15 years ago. In it, you'll read how I use my credibility, track record, and the dream of achieving success to walk the reader to the order form. You'll also see how I integrate a no-risk money-back guarantee throughout.
The Fast Money 2020 $1 Million Giveaway is the transcript for a highly successful two-person webinar/VSL. You'll see how I use a conversational back-and-forth style to keep viewers engaged in learning the secret trading strategy that will make them rich.
Oil Time Bomb to Blindside U.S. Investors was one of my favorite all-time promotions. REASON: It uses my famous "either-or" news approach to bring in readers on both sides of the argument. Prospects read every last word to see if they are right. This was a three-year control using various headlines and was converted to a highly successful VSL.
The Lightning-Fast Profits Summit is the transcript for another highly successful trading service VSL I wrote. Here you will see one of my biggest secrets at work: How explaining how the trading mechanism works to prove to readers that this system will make readers money. So powerful, you may forget this is an example and subscribe!
The Retirement Club is one of my legendary email promotions that ran in various formats for over a decade using a simple e-vite and landing page that transformed a publication into a club by repositioning the offer.
The Master Key to Marijuana Profits relaunched a struggling publication to incredible success. The key to success was taking a macro-economic view and then drilling down into the individual stock picks.
Individually, you'll see first hand:
My headline formula for grabbing readers by the throat
How I use subheads and bullet points to keep the readers' interest throughout each promotion
How I drop "cookies" throughout each piece to build desire.
How I close sale after sale with time-proven calls-to-action that work!
Together, you'll find 233-pages filled with dozens of headline, subhead, landing page, and call-to-action ideas and offers you can use to keep your copywriting strategies fresh and engaging.
My hope is that you can use the structure and format of my winning promotions as a step-by-step guide to writing your next big winning email, landing page, or VSL.
Here's the deal.
So in a sense, my $100 Million Dollar Copywriting Formula Swipe File is almost free.
There's just one catch.
Today Only
My swipes are for people who want to own the best collection of winning direct response samples …
Who know that the fastest way to improve your copywriting skills is to mimic the headlines, arguments, and calls to action that have brought in millions of dollars….
Who want a bank of winning headlines, leads, transitions, and arguments to turn to whenever you need inspiration for your next email, landing page, or video sales letter.
For these reasons, if you can't take me up on my Almost Free offer TODAY, chances are you wouldn't use any of the ideas found in my promotions and I would be remiss in selling you a copy.
That's why you'll have to make your decision today.
If you want to want to tap into the promotional power they offer you, then you must grab my savings offer and credit today without hesitation.
With my Almost Free offer, you really have nothing to lose by deciding to join my coaching program in the future.
So what are you waiting for?
Click here to grab a copy of my top swipes for your library at my special discount and mine them for million-dollar ideas you can add to your emails, landing pages, and video sales letters.
All good wishes,
Doug D'Anna
P.S. I'll never forget the day I cashed my first royalty check. It was on March 24th, 1992. The check was for an incredible $12,967 and cashing it was one of the most thrilling moments of my life.
I know you'll feel the same way when you use my ideas to fashion your next million-dollar email, landing page, or video sales letter and you see your sales explode.
My Almost Free offer makes it easy for you to profit from them. I guarantee adding them to your library could be one of the best skill-building decisions of your life.